Modal for Excellus BCBS Service Area
null
Breast Cancer Screening Data Show That Upstate New York Women Make Getting a Mammogram a Priority
Breast Cancer Screening Data Show That Upstate New York Women Make Getting a Mammogram a Priority
For Immediate Release: 2019-10-16
Contact: Jim Redmond, (585) 238-4579
Rochester, NY –
Upstate New York women between the ages of 50 and 74 are beating the national breast cancer screening goal, but two in 10 still do not get their recommended mammograms, according to a review of data issued today by Excellus BlueCross BlueShield.
The breast cancer screening rate in upstate New York (82.2 percent) exceeds the national Healthy People 2020 goal (81.1 percent) established in December 2010 by the U.S. Department of Health and Human Services. In 2010, the overall breast cancer screening rate in the U.S. was 72.4 percent.
"I'm pleased to see the high breast cancer screening rate among women in upstate New York," said Lisa Harris, M.D., Excellus BlueCross BlueShield vice president and chief medical officer. "It shows that the message regarding the importance of screening is getting through." The U.S. Preventive Services Task Force recommends that all women ages 50 to 74 be screened for breast cancer every two years. Some women may need to be screened earlier or more frequently.
Drilling down into the latest screening data, Excellus BlueCross BlueShield found that some parts of upstate New York are doing better than others. Since the health insurer last reviewed the data in 2014, breast cancer screening rates increased in the Finger Lakes, Southern Tier, and the Utica/Rome/North Country regions, but dropped in Western and Central New York.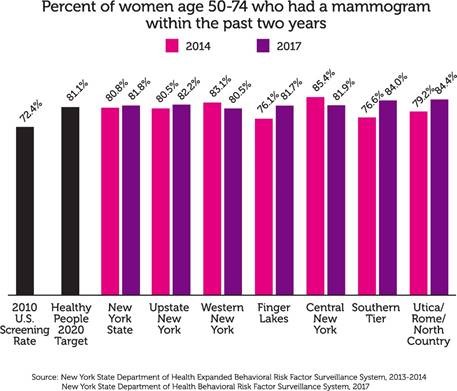 Among women in New York state, breast cancer is the most common cancer and the second-leading cause of cancer-related deaths. Early detection is key, and mammography is the most important screening test for the disease. A mammogram can detect a tumor up to two years before it can be felt by the patient or a doctor.
"Considering the effectiveness of mammograms, it's surprising that all women don't have their physician-recommended mammograms," said Harris. "New data from the U.S. Census Bureau show that 96.5 percent of the upstate New York population has health insurance, so coverage isn't likely as much of an issue as other barriers to care may be."
Obstacles that may prevent women from having their routine breast cancer screening can include lack of transportation, inconvenient screening facility hours, and/or patient apprehension about screening discomfort and safety.
To combat the transportation barrier, some hospitals and medical practices make it more convenient for women to be screened by bringing a mobile mammography van out into the community. Many hospitals and clinics also offer extended hours for on-site mammography screenings, so appointments can fit most every schedule.
"Screening can be uncomfortable, but the test only takes a few minutes and can possibly save a life," said Harris. "The potential benefits of early cancer detection outweigh any perceived or potential risk."
A woman's risk factors determine when she should begin getting screened.
All women ages 50 to 74 should be screened for breast cancer every two years.

At age 40, women at average risk should discuss with their doctor when to start screening.

Women at high risk or with a family history of breast cancer should talk with their doctor about the right age and frequency of screening.
For tips on making breast cancer screening a priority, view a downloadable Excellus BlueCross BlueShield poster at https://tinyurl.com/EXmammo.
Learn more about breast cancer risk factors and screenings by talking with your doctor, or by visiting the U.S. Preventive Services Task Force website at http://tinyurl.com/USPSTFbc.
# # #
Excellus BlueCross BlueShield, an independent licensee of the Blue Cross Blue Shield Association, is a nonprofit health plan with 1.5 million upstate New York members. The company's mission is to help people live healthier and more secure lives through access to high-quality, affordable health care. Its products and services include cost-saving prescription drug discounts, wellness tracking tools and access to telemedicine. With more than 3,500 employees, the company is committed to attracting and retaining a diverse workforce to foster innovation and better serve its members. It also encourages employees to engage in their communities by providing paid volunteer time off as one of many benefits. To learn more, visit ExcellusBCBS.com.