Page Title, Social Icons for page template
Unclaimed Funds - Intro
Every year, the state requires insurers to make a list of unclaimed checks that are three years old. The names are then placed in advertisements in local papers in an attempt to find the people who have money to claim. If the property is not claimed by August, the money is then turned over to the Comptroller of the State of New York.
This is money that was paid for claims or refunded premiums. It rightfully belongs to our members or providers and we want to make sure they have one more chance to claim it.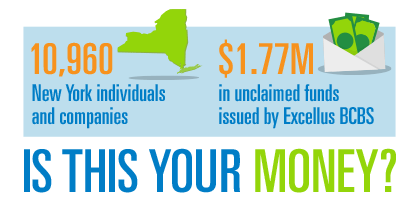 Unclaimed Funds - claim steps
Letters have been mailed to addresses on file. If you do not receive a letter or your address has changed, please print the Unclaimed Funds Claim FormOpen a PDF
Mail the completed form, along with any required documentation, to:
Unclaimed Funds
PO Box 21146
Eagan, MN 55121
Responses must be received by August 1. Please allow up to 90 days for processing.
Unclaimed Funds - bottom choices
Unclaimed Funds - bottom choices